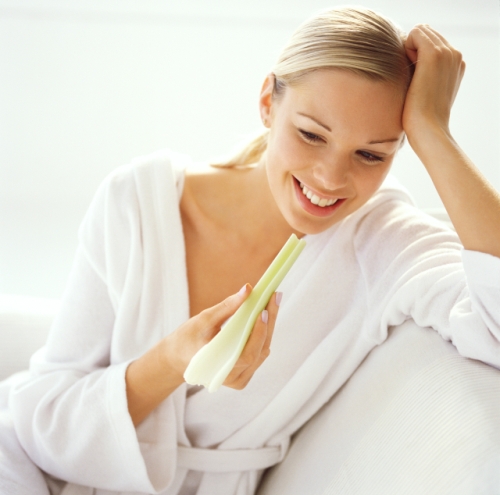 Since I'm so passionate about lightening our toxic load, I'm also passionate about how we detox. Cleansing should be safe and healthy.
Yet when we talk about detoxing with things we eat and drink, we know that most of the fad diets out there leave the body worse off than before. Why? These unhealthy cleanses wipe out too many of the good intestinal flora. Since our small intestine is 23-28 feet long and our large intestine 5 feet long, there's a lot of gut real estate to repopulate. And if we don't get the good guys back in quickly, which is almost impossible to do, Candida yeast takes over. And that's a precursor to its getting all over the body, including our brains, and causing trouble.
To give us all a safe and healthy alternative to the bad cleanses out there, this fall my company announced the first annual AIR APPARENT Fresh Start Cleansing Program.  I've hired nutritionist Nedra Sahr to provide us with guidance and lots of wonderful support handouts.  She has 30 years of helping people do nutritional cleansing the healthy way.  Watch a 23-minute video about our program at www.freshstartprogram.info.  Use the words "freshstart" as the password.  Then let me know how you'd like to participate and I can help.  There's no charge for the coaching part of the program.  All you pay for are the products we use.  If you miss it this fall, watch for it next September.
For the first week of the program, we help our bodies detox by supporting the body's digestive process.  We rest our gut from having to digest protein, caffeine, sugar.  We eat lots of fruits and veggies, grazing all day. We choose this program when we are looking for digestive support, looking to jump start weight loss, looking for an increase in focus and energy, and looking for help with hunger management.  We simply want to feel good again.
Designed by SHAKLEE experts, our cleanse starts with a week that combines our own food wtih a carefully selected combination of  supplements free of artificial sweeteners, preservatives, and flavors.  And they're gluten free.
Optiflora Probiotic Complex helps promote healthy intestinal activity and good digestive health.*
Liver DTX Complex helps maintain normal liver function. Key ingredients help maintain bile flow (an integral part of digestion) and protect the liver from toxins.
Alfalfa Complex helps provide a wide variety of nutrients, including calcium, phosphorus, vitamins, chlorophyll, and bioflavonoids.
Herb-Lax encourages a mild cleansing action to aid the body's natural processes.*
Learn more about the 7-day Healthy Cleanse by SHAKLEE.  Or get in touch.  24/7 Talk/Text:  336-701-1945  Shirley@AirApparent.com
†Based on a pilot study conducted by three SHAKLEE Distributors, a medical doctor, and two nutritionists, under the supervision of SHAKLEE Medical Affairs.
*These statements have not been evaluated by the Food and Drug Administration. This product is not indented to diagnose, treat, cure, or prevent any disease.
Facebook Comments